SMAG Radio Remote Control Grab
OUCO Wireless Remote Control Grab Bucket whose transmitter can be operated up to a max distance of 100 meter from the grab, which is fitted with remote control receiver. The grab can be operated approx 30 days before the batteries need to be charged. Our products meet the factory, workshop, port, mining, waste disposal, goods scattered, petrochemical, aerospace, military and other industries of universal bridge crane, overhead crane, eot crane, door crane, universal gantry crane, rubber tyre and rail mounted container gantry crane four link type portal crane, quayside container crane, crane, crane hook, mining grab crane, gantry crane, ship loader, grab bucket ship unloader, stacker reclaimer, dredger, mobile platforms and other types of hydraulic crane technical requirements.
Wireless Remote Control Grab Bucket Features And Advantages
1.Designed to single wired cranes.
2.No need any electric supply or motor, runs with battery.
3.Opens by radio remote control, closes by rope equipment.
4.When a cylinder fails, it can work single cylinder for a while.
5.Manufactured in range of 1 CBM to 50 CBM capacity.
Because of the advantages of remote control grabs, shipowners' customers prefer to use remote controlled grabs in addition to electro-hydraulic bulk grabs. Because remote grabs are simpler and easier to manufacture than electro-hydraulic bulk grabs, there are several domestic grab factories that advertise and produce remote grabs. However, it is not an easy to make remote control grabs reliable and durable. For example, if a small piece of trash is in a closed hydraulic system, it will block the valve and cause a serious failure, and the remote grab is to catch small particles in the ship's warehouse.
Wireless Remote Control Grab Bucket GA Drawing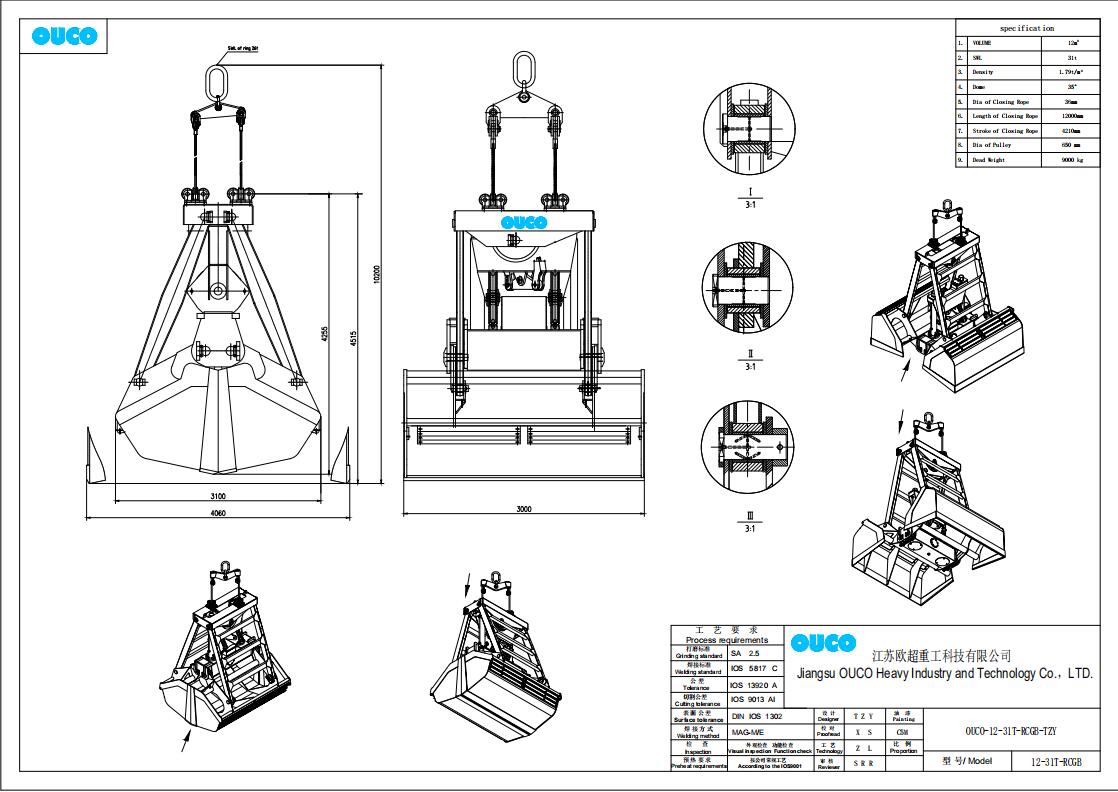 Wireless Remote Control Grab Bucket Parameters
1 SWL 9 t
2 Volume 3m³
3 Density 0.8-2.5 t/ m³
4 Diameter of closing rope 36 mm
5 Length of closing rope 12 m
6 Diameter of pulley 650 mm
7 Stroke of closing rope 4210 mm
8 Dead weight 8.5 t
Wireless Remote Control Grab Bucket Related products